Dear John
Join Animal Aid today to receive 10% off EVERYTHING in the Animal Aid shop and 20% off EVERYTHING on our special Valentine's page.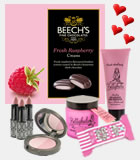 Join Animal Aid today and we will give you a special code so that you can buy vegan cruelty-free Valentine's Day treats for your loved one (or just for yourself!) and save 20%. The treats include chocolate, Prosecco, make-up and scented candles. As an Animal Aid member, you will also start to receive our quarterly campaigning magazine, Outrage.
This offer expires on (of course!) February 14th so don't delay! Join Animal Aid now and enjoy 20% off your cruelty-free Valentine's Day.
With love from Animal Aid.